Sarasota Bay Watch is garnering excellent support from individuals, businesses and Foundations. Their recent fund raiser was a huge success.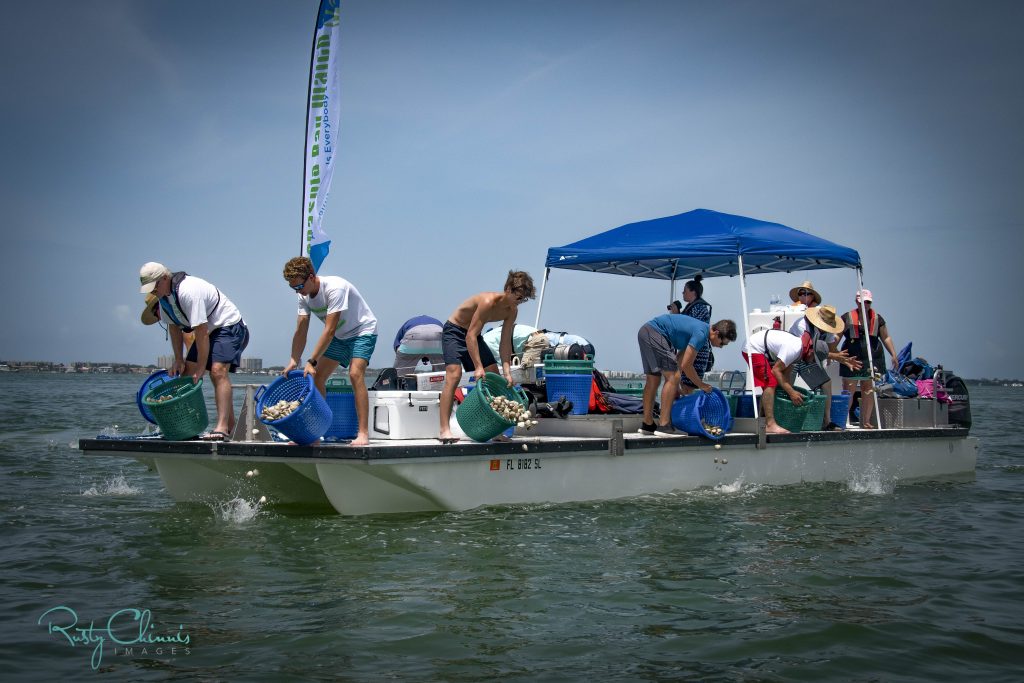 Sarasota Bay Watch (SBW) held its 10th Annual "Scallopalooza, It's Clamtastic" fund-raising event at their new venue, Sarasota's Hyatt Regency Hotel. on Saturday, Feb. 15. The yearly event sold out and exceeded all expectations as close to 450 people showed up to demonstrate their support for the group's efforts to protect and enhance the health of Sarasota Bay. Attendees from Sarasota and Manatee counties were represented as well as officials from both counties and environmental groups including the Sarasota Bay Estuary Program, Mote Scientific Foundation, START, Suncoast Waterkeeper, Longboat Key Turtle Watch, Save Our Seabirds, Coastal Conservation Association, The Gulf Coast Community Foundation, Mote Marine Laboratory, The Gulf Shellfish Institute, Science and Environmental Council of Southwest Florida, New College and Saint Stephen's just to name a few.
A number of annual attendees commented that they were "blown away" by the outpouring of support for an organization that was formed in 2007 in the aftermath of one of the area's massive red tide events. SBW's event coordinator, Ronda Ryan, worked with event planner Laura Detwiler, the SBW board and Scallopalooza Committee Chairs Brian Jung, Al Jeffery, John Ryan and Ernesto Lasso De La Vega to organize an event that had a seasoned activist overheard commenting that SBW was "more than a little found!"
The evening began with live music, an open bar and a huge silent auction including artwork, event tickets and merchandise of every description as participants mingled to share their passion for Sarasota Bay. Event Chair Brian Jung welcomed the crowd and thanked them for their support while keeping everyone apprised of the auction items and encouraging them to visit the tables. John Ryan, a founding member of Sarasota Bay Watch, was next and explained the purpose of the event as well as SBW's many projects including island cleanups, student educational activities, plans for the future as well as updating participants on the group's program in progress to introduce 1 million clams into Sarasota Bay in 2020. This effort got a huge boost in 2019 with a $106,000 donation from the Marjory and Charles Barancik Foundation. Jung related the impact of clams on the health of the bay and how funds raised at the event will support those efforts.
In an emotional speech, Sarasota's Barbara Sucoff, an SBW supporter who learned about the group's efforts at a "Friend Raiser" event at the VUE condominium with her late husband Jim Ninivaggi, spoke of the legacy he wanted to and did leave supporting SBW's efforts. WWSB TV's Channel 7 weatherman Bob Harrigan, one of the area's most popular and respected broadcasters and the emcee for the live auction gave a rousing speech lauding the group's efforts and encouraging them to bid on a trip with award-winning local celebrity Captain Scott Moore and a package of premier tickets to the Tampa Bay Bucs football games. Harrigan has been promoting the group's efforts since the beginning and recounted the segment he did with Sarasota's Captain Jonnie Walker during SBW's first-ever Scallop Search in 2008. Moore then took the stage and recounted his life-long love affair with Sarasota Bay and his commitment to protecting it, beginning with the formation of the Manatee County Chapter of the Florida Conservation Association in the 1980s until today. He then proceeded to up his offering from one day to two, offering trips from Sarasota Bay to Charlotte Harbor.
Both auction items were heavily bid on and raised thousands of dollars for the group's efforts. At press time the totals of the evening's proceeds that will be put to work in Sarasota Bay were not available but early estimates are that they will far exceed those of previous events.
To get involved with the work SBW is doing to protect Sarasota Bay and support its mission, visit their website. As they say, "A Healthy Bay is Everybody's Business," literally and figuratively!